Rapper Drake Gifts Kodak Black $250,000 In Bitcoin
Rapper Drake has been very open with his dealings in bitcoin lately. The Canadian rapper who has gained superstardom continues to increase his involvement with the digital asset. He recently send some bitcoin to fellow rapper Kodak Black, officially introducing the latter to the cryptocurrency, who admitted that he had never used the digital asset before until Drake introduced it to him.
Drake Being Generous With Bitcoin
Kodak Black was on "The Breakfast Club" on Wednesday where he revealed the generous gift his industry colleague had given to him. According to Kodak, rapper Drake had called him up and asked him if he had any bitcoin. When Kodak had responded in the negative, Drake had promptly told him to go set up a bitcoin account. Kodak, knowing his colleague, knew something was up and went to set up a bitcoin wallet even though he had never used it before.
"This n*** text me like 'You got bitcoin?' I was like 'Nah.' He was like 'Set up a bitcoin then.' So you know, I'm like, ok, I'm putting two and two together, that's four, you know what I'm sayin'?" Kodak told The Breakfast Club.
BTC still trading below $40,000 | Source: BTCUSD on TradingView.com
Rapper Kodak had finally set up the wallet after much pestering by Drake. Once the amount was set up and good to go, Drake had asked Kodak to send over his bitcoin wallet. The rapper admitted to being surprised and confused at this request but had done it anyway.
Not long after, Kodak said he received 6.6 BTC from Drake, which was worth almost $250,000 at the time. Kodak revealed in the interview that he had no plans of selling the generous gift. He intends to hold the digital asset for the long-term while it appreciates over time.
Winning Big At The Super Bowl
Drake has been heavily involved in the bitcoin gambling space. He has at various times in the past placed bets using the digital asset running into the millions of dollars. About two weeks ago, Bitcoinist reported that the rapper had placed bets of almost $1.5 million ahead of the Super Bowl weekend, betting heavily for his team, the Los Angeles Rams, to win, and star Odell Beckham Jr. covering over 62.5 receiving yards and scoring a touchdown.
Due to an injury sustained on the field, the rapper had lost the bets on Beckham. But had gone on to win other bets as the L.A. Rams did in fact come out victorious in the games.
Despite losing on some of his bets, Drake still came out in profit on his bets. Going by the figures the rapper posted on his Instagram page, Drake would've still made over $380K on his bets.
Crypto Corner: The Sports Slice
The NFL is approaching crypto sports deals with caution, but the abundance of potential revenue is keeping the league engaged. Meanwhile, one storied football club across the pond is looking to build the first-ever 'metaverse stadium.' And a popular NBA player is shutting down shop on his NFT project, leaving many with a bad taste in their mouth.
It's all in a week's worth of action when it comes to sports and crypto. Let's review the past seven days of activity.
The Sports Slice
De'Aaron Fox Abandons NFT Project
De'Aaron Fox is arguably the most talented player on the admittedly lowly Sacramento Kings, and has been a long-time fan favorite for the Bay Area-adjacent club. Fox was one of the first NBA players to release their own NFT projects, titled SwipaTheFox, and despite roughly $1.5M in NFT sales, it's all coming to a screeching halt this past week.
It's another NFT project to join a long list of celebrity-started or sponsored mints that provided a detailed roadmap, but failed to deliver. Below is a screenshot from the project's Discord that shows Fox's announcement of discontinuing the project:
FTX Launching Gaming Unit, Expanding Marketing Push Beyond Sports
A new report from Front Office Sports has unveiled that crypto exchange FTX is launching a dedicated gaming unit focused on blockchain network and NFT integration. The full scope of the unit is yet to be disclosed, however the move is certainly on par with FTX's positioning. The exchange has partnered with powerhouse esports org TSM in a first-ever naming rights deal, and has spent substantial funds around GameFi and related areas.
Meanwhile, the exchange also brought on a new head of global luxury partnerships as FTX looks to build outside of it's current sports-sponsorship heavy strategy. Lauren Remington Platt will fill the role and has a resume tailored in fashion and business development that will be tough to top. Platt previously built her own beauty service and established premiere partners such as Saks Fifth Avenue and Vogue.
Nielsen Report: Blockchain Sports Sponsorship To Hit $5B By 2026
A new global sports sponsorship report from Nielsen that was released this week reveals that the analytics and data firm is projecting massive spend from crypto competitors to continue to flood in to the sports sponsorship space. Nielsen is forecasting sports sponsorship deals from blockchain players to amass to $5B by 2026, a nearly 8-fold increase over last year's spend. The report cites 'legitimacy' and 'fan engagement' as the two key factors to contribute to future deal's success in sport.
We'll have a deep dive on the Nielsen report in the days to come.
MLS: DC United Finds New Blockchain Partner
MLS club DC United has found a new blockchain technology partner this week in XDC Network, who have signed a three-year deal and will find brand assets on United's home and away jerseys and training tops.
The XDC Foundation's Executive Director Billy Sebell said in a release:
"This partnership is about bringing the value of blockchain to the D.C. United fanbase to elevate their experience, drive deeper engagement, and connect the growing crypto ecosystem to the club."
Related Reading | NFTs In A Nutshell: A Weekly Review
XDC Network is the latest blockchain technology firm to find a partner in the MLS. | Source: XDC-USD on TradingView.com
The NFL's Latest Perspective On Crypto Sponsorship Deals 
Last week's Sports Slice highlighted the NFL's latest lobbying efforts with the SEC and other U.S. federal agencies. This week, a new report from the Sports Business Journal states that the NFL is still proceeding with care; despite massive success in the Super Bowl commercial execution from crypto companies like Coinbase, the league isn't ready to go all-in quite yet.
League representatives told SBJ that they are "hopeful" that a league-wide crypto policy can come into place in the next 30 days, admitting that it realistically "may or may not happen." The league's current hesitance lies within the lack of current regulatory framework, and SBJ reports that the league is "is more confident in products based on the blockchain that don't require cryptocurrencies to function," citing the deal with Ticketmaster to produce NFTs. In present day, the league is certainly more prone to revenue-driving opportunities that don't require the league to take on the level of risk that current hands-on crypto engagement is exposing.
The First-Ever Metaverse Stadium?
Manchester City has been one of the more aggressive Premier Club teams, and now the club is working with Sony's VR team to build a "virtual duplicate of the Etihad Stadium" that will serve as the team's virtual HQ. The club already has a fan token established with Chiliz, and despite rocky relationships at times with potential blockchain partners, it's bullish to see Man City still pursuing new avenues to engage with fans.
Featured image from Pexels, Charts from TradingView.com
The writer of this content is not associated or affiliated with any of the parties mentioned in this article. This is not financial advice.
Ponzi Scam: BitConnect's Indian Founder Charged In $2.4 Billion Bogus Scheme
A federal grand jury in San Diego charged the founder of a cryptocurrency startup Friday in a broad indictment that claims he cheated investors of more than $2.4 billion in a Ponzi scam.
Prosecutors say the fraud is the largest of its sort ever prosecuted criminally.
Satish Kumbhani, 36, of Hemal in Gujarat, India, swindled investors regarding BitConnect's "Lending Program," according to court filings.
Based on the indictment, Kumbhani founded BitConnect in 2016 as a "classic Ponzi scam." he US Department of Justice said the exchange reached a peak market valuation of $3.4 billion.
Prosecutors allege that BitConnect's proprietary technology made misleading promises about returns based on phony "volatility software" that monitored bitcoin exchange markets.
Another Major Ponzi Scam
According to court filings, the program was allegedly created to trade automatically and successfully by buying and selling Bitcoin's volatility.
However, a large portion of the technology remained unknown to investors. When someone requested a demo at a 2017 event, Kumbhani was evasive:
"So you're asking me a pretty difficult question," he explained to one journalist. Later, as described by the Los Angeles Times, he stated, "We are not sharing anything for privacy concerns."
BitConnect halted operations in January 2018 after receiving cease-and-desist letters from North Carolina and Texas state regulators.
Total crypto market cap at $1.766 trillion in the daily chart | Source: TradingView.com
The global repercussions was fast, with South Korean investors becoming "paranoid" and one promoter informing Kumbhani that people were discussing suicide in chat rooms, the indictment stated.
The US Securities and Exchange Commission filed charges against Kumbhani on September 1 for securing more than $2 billion in an unregistered offering.
Glenn Arcaro, BitConnect's main promoter in North America, pleaded guilty that day.
Long Prison Time
Kumbhani is facing charges for conspiracy to commit price manipulation and wire fraud, as well as operating an unregulated money transfer business and conspiracy to launder money in foreign shores.
Kumbhani also violated US financial industry regulations, including those imposed by the US Financial Crimes Enforcement Network.
For instance, despite the fact that BitConnect transacted money through its digital currency exchange, BitConnect never registered with FinCEN, as required by the US Bank Secrecy Act.
As bitcoin grows in popularity and encouraging foreign investors from all over the world, "alleged fraudsters like Kumbhani are deploying increasingly complicated methods to deceive investors," Ryan Korner, special agent in charge of the IRS Criminal Investigation Office in Los Angeles, disclosed.
Kumbhani, who is still at large, faces a maximum sentence of 70 years behind bars if convicted on all charges.
Russian Politicians' Crypto Wallets Targeted By Ukraine – Hefty Reward Up For Grabs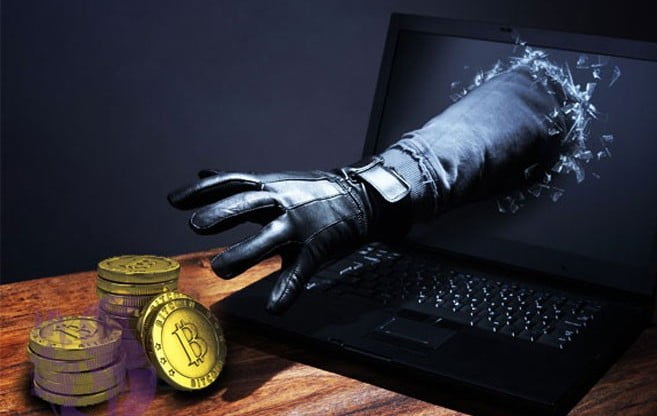 Ukraine is exploring more means of thwarting Russia's onslaught on their country by running after government official's crypto wallets.
Ukrainian authorities are attempting to stay ahead of crypto-savvy Russian officials who may shift to digital currency in order to evade rising efforts to financially isolate the Kremlin and its allies.
Wars can be waged on numerous fronts, as few stones are left unturned in the pursuit of the most effective techniques for gaining the upper hand.
Ukraine demonstrates resourcefulness in this aspect, as it fights Russia's recent unprovoked invasion with conventional military techniques.
The country – which is unparalleled in terms of military capacity – is now hellbent on crippling Russian political figures by actively pursuing information about any digital wallets they may possess.
Ukraine Dangles Reward For Crypto Wallets Info
Vice Premier Mykhailo Fedorov announced on Saturday that the Ukrainian crypto community will reward those who give information.
The government has already begun soliciting cryptocurrency donations via social media and has advertised in online hacker forums that it is seeking assistance in defending against cyberattacks.
Federov also indicated that Ukraine is assembling an "IT army."
Russia's policy of combating adversaries using digital assets and online means has been in place for a long time, and the Ukrainian hope is that it may be turned around on them in a significant way.
Total crypto market cap at $1.731 trillion | Source: TradingView.com
Sanctions are among the most potent measures available to the United States and its Western allies for influencing the behavior of states they regard as threats.
And in this instance, a bounty for anyone who can provide information about crypto wallets belonging to Russian and Belarusian politicians can be a very effective instrument.
Bounty To Be Paid By Private Donors
According to Artem Afian, a Ukrainian attorney in charge of the project, the incentives for politicians' crypto wallet information will be paid by private donations rather than by the Ukrainian government.
Afian did not disclose the total amount raised thus far, but said that donations were made primarily in Ether (ETH), but also in Bitcoin (BTC) and other cryptocurrencies.
Ukraine's actions demonstrate how cryptocurrencies can cross borders and be used by both those seeking assistance and those attempting to evade the law.
Afian said he intends to publish a list of politicians' addresses over the next two to three days and distribute it to major cryptocurrency exchanges.
Putin May Not Fall Into The Trap
The primary goal is to flag these addresses as "unsafe" and to deter individuals and businesses from transacting with them.
However, it is unlikely that Russian President Vladimir Putin will fall victim to this dragnet.
According to credible grapevines, Putin is notoriously averse to technology and reportedly does not own a cellphone.